Corel
Product ID: 1879989 | Mfg Part #: ESDCDGS2021AMEDU
Who's Eligible
(Details)
Student, Faculty, School, Organization, Staff
Retail

$

499.00
$

119.95
Electronic Software Delivery
---
CorelDRAW Graphics Suite 2021
From wireframe to wow
Start your design journey on the right foot with CorelDRAW® Graphics Suite 2021: a complete suite of professional graphic design applications for vector illustration, layout, photo editing, and more – specifically designed for your platform of choice.
Design
Produce unique illustrations, signage, logos and more–on Windows or Mac–and on the go with CorelDRAW.app™.
Collaborate
Collaborate with clients and colleagues using CorelDRAW.app to gather real-time feedback from one or many reviewers.
Done
Deliver exceptional results in less time, thanks to seriously productive tools for any type of output.
All the tools you need to tackle any project
CorelDraw
Create anything and everything with this powerful full-featured graphic design application for vector illustration, page layout, and more.
Corel PHOTO-PAINT
Process images in high gear with the robust AI-powered Corel PHOTO-PAINT™ and enjoy an integrated workflow with CorelDRAW.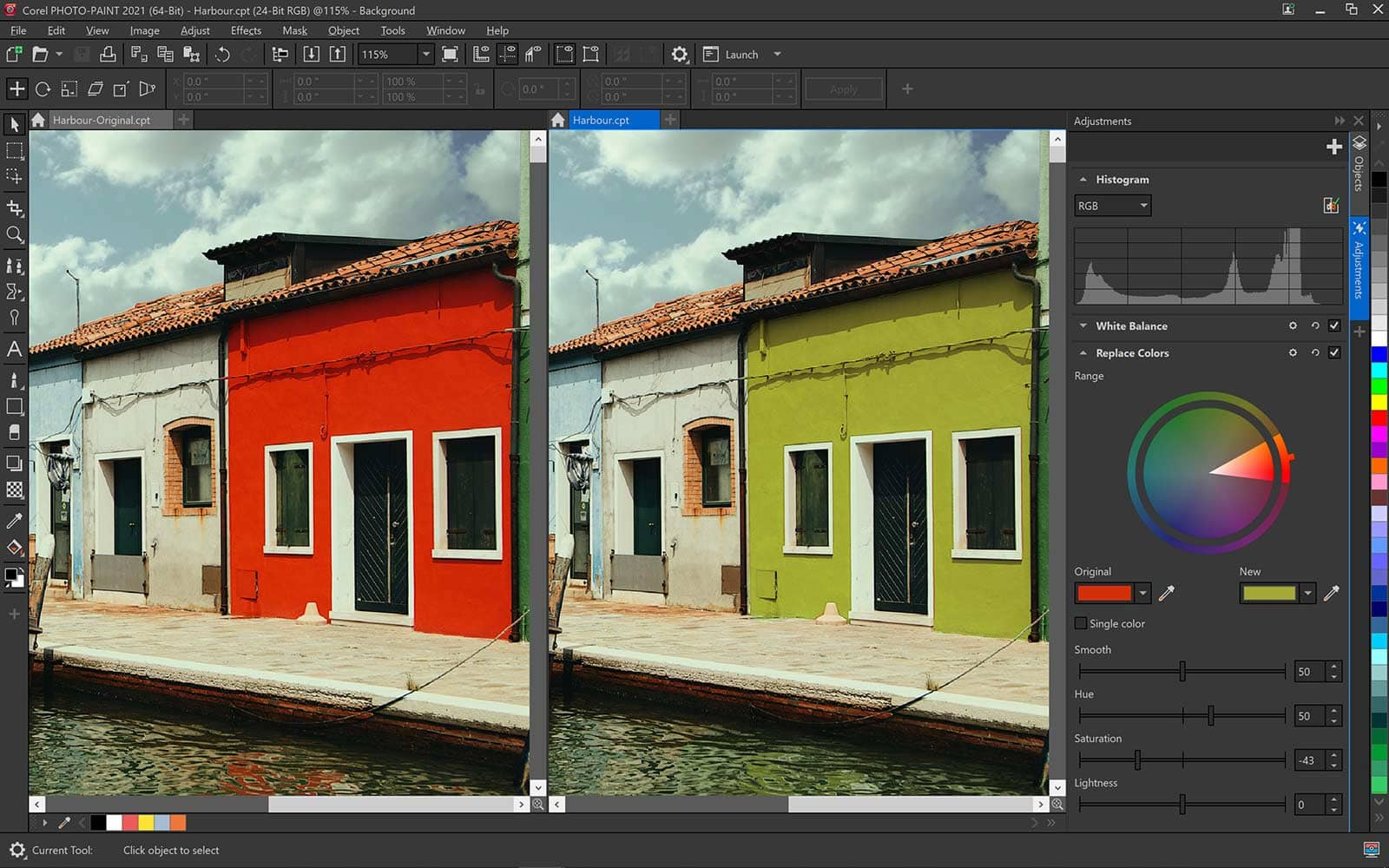 CorelDRAW.app
Use CorelDRAW.app™ to gather feedback from a client, or to access your work remotely when you're not near your computer.
CorelDRAW.app for iPad
Rely on the iPad app for convenient collaborative file review or to design on the go.
CAPTURE
Capture and save images of your computer screen, including the entire screen, individual windows, or menu lists, in one click.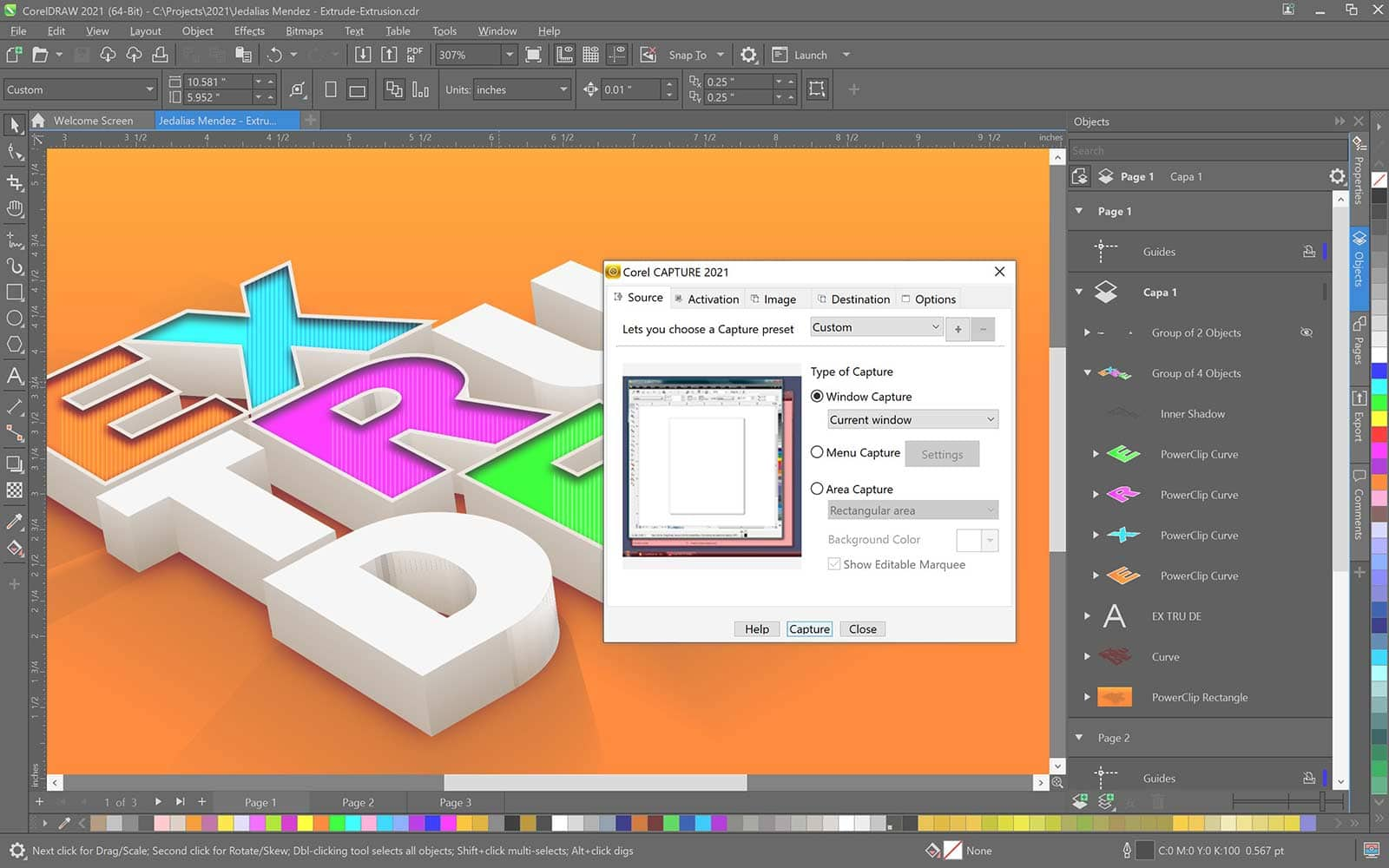 Corel Font Manager
Organize and manage your font library with the simple, yet intuitive, Corel® Font Manager, and use your favorite fonts without needing to install them.
AfterShot 3 HDR
Make professional-grade corrections and enhancements to RAW or JPEG photos and create high dynamic range images with AfterShot™ 3 HDR. Available in English, German and Japanese
What's new in 2021?
Draw in perspective
Draw objects or illustrated scenes in perspective, faster and easier than ever. Choose from 1, 2, or 3-point perspective, draw or add an existing group of objects on a shared perspective plane, and move and edit objects freely without losing perspective.
Flexible design space
Go from ideation to output in record time, with new workflows that put you in control of your pages and assets.
Progressive image editing
Take the labor out of what you love with powerful new photo editing features purpose-built to enhance images in fewer steps.
Next-generation collaboration
Enough wasted time already! Stay connected with colleagues and clients as remote work becomes our new normal.
Gather real-time comments and annotations from one or many contributors, right within your shared CorelDRAW design file. Watch video
An intuitive new project dashboard makes storing, organizing, and sharing cloud files a breeze. Watch video
An enhanced Comments docker streamlines filtering through feedback with the ability to search reviewer comments.
CorelDRAW is everywhere!
Say goodbye to technology constraints and hello to a true cross-platform experience across Windows, Mac, web, iPad, and other mobile devices. With a new touch-optimized user experience, CorelDRAW.app expands what's possible on mobile and tablets, and a new iPad app makes it even easier to design on the go.
What's Included
Main Applications
CorelDRAW® - Vector illustration and page layout
Corel PHOTO-PAINT™ - Image editing and pixel-based design program
Corel® Font Manager - Font exploration and management tool
PowerTRACE™ - AI-powered bitmap-to-vector tracing (included as part of the CorelDRAW application)
CorelDRAW.app™ - Online vector illustration and graphic design via web browser
CorelDRAW.app™ for iPad – Vector illustration and graphic design iPad app
CAPTURE™ - Screen capture tool
AfterShot™ 3 HDR - RAW photo editor
Content
7,000 clipart, digital images, and vehicle wrap templates
1,000 high-resolution digital photos
Over 1,000 TrueType and OpenType fonts
150 professionally designed templates
Over 600 fountain, vector and bitmap fills
Minimum system requirements
Windows 10*, 64-bit, with latest Updates
Intel Core i3/5/7/9 or AMD Ryzen 3/5/7/9/Threadripper, EPYC
OpenCL 1.2-enabled video card with 3+ GB VRAM
4 GB RAM (8+ GB or more recommended)
4.3 GB available hard disk space for application and installation files
Multi-touch screen, mouse or tablet
1280 x 720 screen resolution at 100% (96 dpi)
DVD drive optional (for box installation);
Installation from DVD requires a download of up to 700 MB
Internet connection is required to install and authenticate CorelDRAW Graphics Suite and access some of the included software components, online features and content.
---